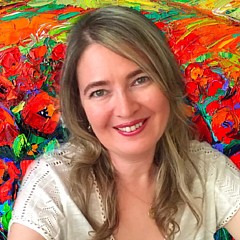 Mona Edulesco Art Shop
Shop for wall art, home decor, apparel, and more featuring artwork from Mona Edulesco.
Mona Edulesco is a Romanian painter and architect who resides in France and specializes in textured impasto palette knife oil paintings. Her preference for abstract cityscapes reflects her background in architecture and urban planning. Edulesco merges her experience in architectural concept drawings with the freedom and energy of palette knife painting into phantasmagorical textural impressionistic works. I call my style Textured Impressionism, with a mix of post-impressionist and expressionist influences and a semi-abstract manner of representation. It can be seen as a...
more