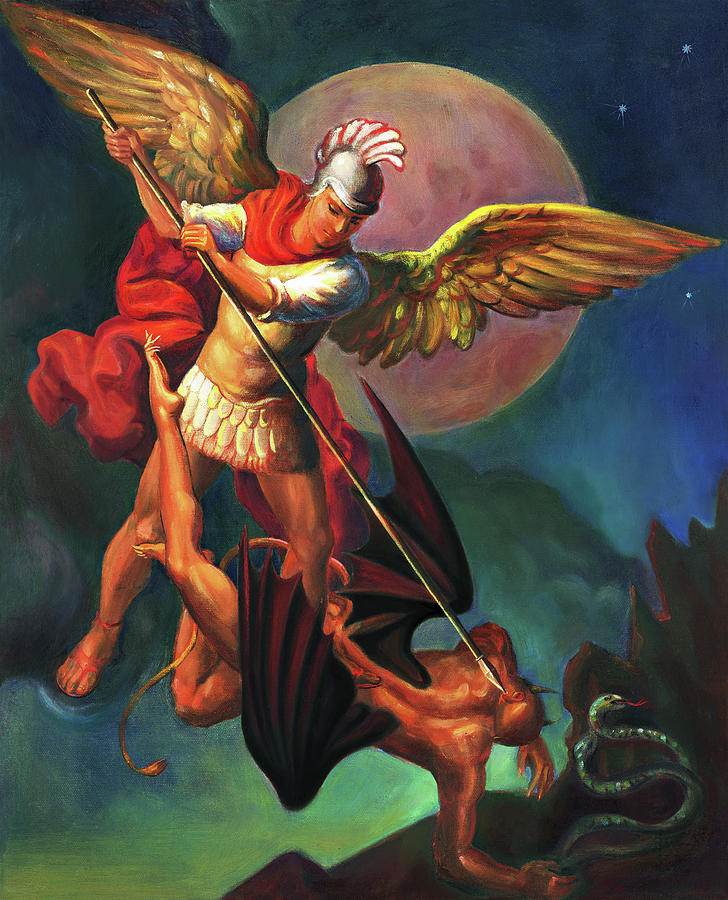 Saint Michael the Warrior Archangel is a painting by Svitozar Nenyuk which was uploaded on July 20th, 2018.
Saint Michael the Warrior Archangel
Saint Michael the Archangel Defeating Lucifer.... more
Buy the Original Painting
Dimensions
16.000 x 20.000 inches
This original painting is currently for sale. At the present time, originals are not offered for sale through the Mobile Prints secure checkout system. Please contact the artist directly to inquire about purchasing this original.
Click here to contact the artist.
Title
Saint Michael the Warrior Archangel
Medium
Painting - Oil On Canvas
Description
Saint Michael the Archangel Defeating Lucifer.
And the war was in heaven: Michael and his angels fought against the dragon; and the dragon fought and his angels,
And prevailed not; neither was their place found any more in heaven.
And the great dragon was cast out, that old serpent, called the Devil, and Satan, which deceiveth the whole world: he was cast out into the earth, and his angels were cast out with him. Revelation 12:7
The protector of soldiers.
The name Michael means- who is like God?; it is like a war cry against those rebellious angels who refused to serve. Michael is the one who overcame evil.
Michael stands on the Devil as a sign of his victory over him.
Blessed Michael, Archangel,
defend us in the hour of conflict;
be our safeguard against the wickedness and snares of the devil.
May God restrain him, we humbly pray;
and do thou, O Prince of the heavenly host,
by the power of God, thrust, down to hell, Satan,
and with him the other wicked spirits
who wander through the world for the ruin of souls. Amen.
September 29
Saint Michael the Warrior Archangel
St. Michael.
Saint Michael the Archangel. L'Archange Saint Michel
Святий Архангел Михаїл
Erzengel Michael
St. Michael. Der Erzengel Michael - Patron der Kirche und Deutschlands
The Archangel Michael - patron of the church and Germany
Saint Michael. Der Erzengel Michael. San Miguel. Saint Michel
St. Michael, the Archangel! Glorious Prince, chief and champion of the heavenly hosts; guardian of the souls of men; conqueror of the rebel angels! How beautiful art thou, in thy heaven-made armor. We love thee, dear Prince of Heaven!
We, thy happy clients, yearn to enjoy thy special protection. Obtain for us from God a share of thy sturdy courage; pray that we may have a strong and tender love for our Redeemer and, in every danger or temptation, be invincible against the enemy of our souls. O standard-bearer of our salvation! Be with us in our last moments and when our souls quit this earthly exile, carry them safely to the judgment seat of Christ, and may Our Lord and Master bid thee bear us speedily to the kingdom of eternal bliss. Teach us ever to repeat the sublime cry: "Who is like unto God?" Amen.
Statistics
Viewed 2,271 Times - Last Visitor from Beverly Hills, CA on 03/08/2021 at 1:43 PM