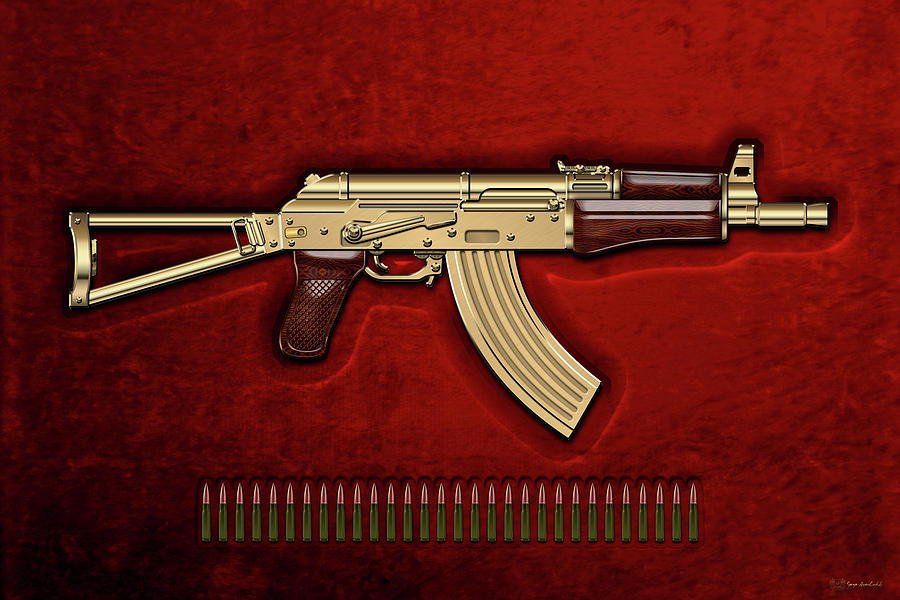 Gold A K S-74 U Assault Rifle with 5.45x39 Rounds over Red Velvet is a photograph by Serge Averbukh which was uploaded on January 15th, 2017.
Gold A K S-74 U Assault Rifle with 5.45x39 Rounds over Red Velvet
Introducing 'The Armory' collection by Serge Averbukh, showcasing meticulous convergent media paintings of various historical and modern weapons.... more
Buy the Original Photograph
Dimensions
72.000 x 48.000 inches
This original photograph is currently for sale. At the present time, originals are not offered for sale through the Mobile Prints secure checkout system. Please contact the artist directly to inquire about purchasing this original.
Click here to contact the artist.
Title
Gold A K S-74 U Assault Rifle with 5.45x39 Rounds over Red Velvet
Description
Introducing 'The Armory' collection by Serge Averbukh, showcasing meticulous convergent media paintings of various historical and modern weapons. Here you will find pieces featuring a Gold AKS-74U Assault Rifle with 5.45x39 Rounds over Red Velvet.
In 1973, a design competition (codenamed "Modern") was started for the adoption of a fully automatic carbine.
This was no doubt inspired by observing the US experience in Vietnam with the XM177. The Soviet planners also drew from the unsolicited design AO-46 built in 1969 by Peter Andreevich Tkachev, which weighed only 1.9 kg. The TTT specifications required a weight no greater than 2.2 kg (4.9 lb), a length of 75 cm (29.5 in)/45 cm (17.7 in) with the stock unfolded/folded, and an effective firing range of 500 m (547 yd). The competition was joined by designs of M.T. Kalashnikov (PP1), I.Y. Stechkin (TKB-0116), S.G. Simonov (AG-043), A.S. Konstantinov (AEK-958), and Yevgeny Dragunov (who called his model "MA"). Kalashnikov also presented an additional design (A1-75) which differed from PP1 by having a modified muzzle for flash and noise suppression.
In 1977 the GRAU decided to adopt Kalashnikov's model, which was largely a shortened AKS-74, because it was no worse than the competition in terms of performance, and promised significant production cost savings by utilizing existing equipment for the AK-74 line. A final round of large scale testing with Kalashinkov's model was performed by airborne divisions in the Transcaucasian Military District in March 1977. The AKS-74U ("U" - Ukorochenniy, or "shortened") was officially adopted in 1979, and given the official, but seldom used GRAU designation 6P26. In 1993 production stopped. In terms of tactical deployment, the AKS-74U bridges the gap between a submachine gun and an assault rifle. It was intended for use mainly with Special Forces, airborne infantry, rear-echelon support units, helicopter and armored vehicle crews. It has been augmented and replaced by various submachine guns, and the less compact AK-105 carbine in Russian military service. It is commonly used by law enforcement; for example, each urban police foot patrol is issued at least one.
The rifle's compact dimensions, compared to the AKS-74, were achieved by using a short 206.5 mm (8.1 in) barrel (this forced designers to simultaneously reduce the gas piston operating rod to an appropriate length). Due to the shortening of the operating mechanism the cyclic rate of fire rose slightly to 700 rd/min. In order to effectively stabilize projectiles, the barrel's twist rate was increased from 200 mm (1:7.87 in) to 160 mm (1:6.3 in) to adapt the AKS-74U for muzzle velocities of 720 m/s (2,362 ft/s) and higher. A new gas block was installed at the muzzle end of the barrel with a muzzle booster, which features an internal expansion chamber inside the cylindrical section of the booster while the conical end acts as a nozzle to increase net pressure inside the gas chamber by supplying an increased amount of propellant gasses from the barrel. The chrome-lined muzzle booster also burns any remaining propellant, which would normally reduce muzzle blast. However, due to the extremely short barrel and conical end of the booster, the muzzle blast is nevertheless extremely large and visible. The muzzle device locks into the gas block with a spring-loaded detent pin and features two parallel notches cut into the edge of the flash hider cone, used for unscrewing it using the cleaning rod stored under the barrel. The forward sling loop was relocated to the left side of the carbine and the front sight was integrated
The AKS-74U is significantly more maneuverable in tight quarters than the AKS-74; however, the significant decline in muzzle velocity to 735 m/s (2,411 ft/s) resulted in a 100 m (109 yd) reduction in effective range to 400 m (437 yd) (the effective hitting distance for a "running"-type silhouette target was reduced from 625 m (684 yd) to 360 m (394 yd)). The AKS-74U cannot mount a bayonet or standard under-barrel grenade launcher. However, a suppressed 30 mm BS-1 grenade launcher was developed specifically for that platform that fires a high-explosive dual purpose (HEDP) grenade. The grenades for the BS-1 are launched by special blank cartridges that are inserted into the grenade launcher via a detachable magazine. The majority of AKS-74U carbines were manufactured at the Tula Arms Factory rather than Izhmash. There were some accessories produced for the AKS-74U including a plastic thigh holster and (shorter than standard) 20-round AK-74 type magazines. The AKS-74U also exists in a version featuring modernized synthetic furniture made from a black, glass-filled polyamide. The AKS-74U was also used as the basis for several other unique weapons, including the bullpup OTs-14 Groza specialist carbine which is now in limited service in the Russian military, and the Gepard series of multi-caliber submachine guns (none of which evolved past prototype stage).
In the United States, the AKS-74U is called a "Krinkov". The origin of this term is uncertain.
Uploaded
January 15th, 2017
Statistics
Viewed 10,841 Times - Last Visitor from New York, NY on 09/25/2023 at 7:45 PM